Who says nude lips are boring? Nude or neutral lipstick is ideal when putting together a makeup look that focuses on your eyes. If you're going to do a smokey eye or heavier winged liner, it's best to keep the emphasis there and go for a natural lip. The key is finding one that suits your skin tone and then the colours can be adjusted by adding a liner or gloss.
QUICK TIPS
1.EXFOLIATE– When it comes to how to wear nude lipstick, start with a smooth base. A smooth base will prevent lipstick from flaking and looking unsightly. Do this by exfoliating beforehand.
2.PRIME IT-Once you've achieved a smooth base, you want to give something for the lipstick to stick to. Dab on some foundation or lip primer to give your lipstick a base to grip to.
3. CHOOSE THE RIGHT SHADE- When it comes to how to wear nude lipstick, choosing the right colour can make all the difference. Stop your nude lipstick from falling flat by choosing the right kind of finish. Ideally, lipstick with a semi-matte or glossy finish is the way to go. A full matte finish needs to be undertaken with caution, and avoid frosty finishes at all costs.
And Voila - You are done!.
Shop our editor's picks for the 5 best nude and neutral lipsticks To Rock

1. NARS Lipstick in Belle de Jour – Buy It Here
2. Urban Decay Comfort Matte Vice Lipstick – Buy It Here
3. Illamasqua

Glamore Nude Lipstick –Buy It Here
4. CHARLOTTE TILBURY ( K.i.s.s.i.n.g Lipstick) Buy It Here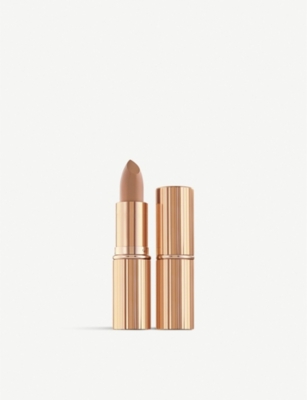 5.Tom Ford Lip Color in Sable Smoke- Buy It Here